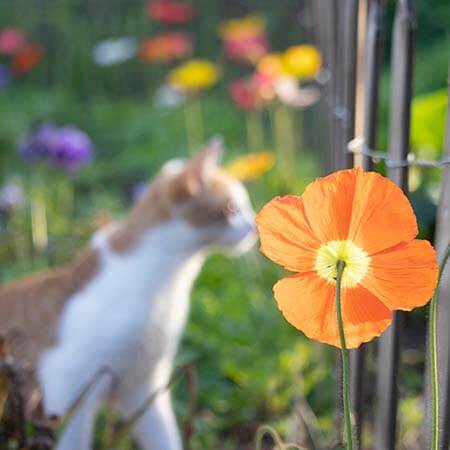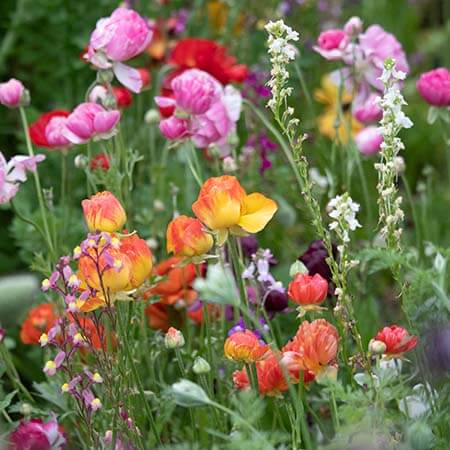 September 06, 2021
Planting & Sowing Chilly Weather Flowers
Whether planting for a California winter or early spring in colder zones, these are my favorite flowers that do well in chilly weather. In my zone, 9b, it typically freezes to about mid 20s Fahrenheit and that's no problem for these flowers. While these flowers will not bloom while temperatures are dipping below freezing, their foliage can withstand frosty weather. So for those of you in colder zones, you don't have to wait until after the last frost date to plant them. And for those of you in zones 9-10, fall is the time to plant.
I've sorted these flowers into categories based on how I plant them. Every flower can be grown from seed, but I don't necessarily have the growing conditions or time to do that. For mass plantings with many flowers, it can be easiest to plant from six-packs. In my experience, it's the independently owned local nurseries that typically carry many of these flowers in six-packs. Typically, big box garden centers don't carry perennials in six-packs.
Most of these flowers are perennials but perform differently depending on the location. I live in an area with really hot summers and many of these flowers (Iceland poppy, Chrysanthemum paludosum, Primula, Pansy, Viola) mostly cannot survive the heat, so they are annuals in my garden. And some, like Ranunculus and Anemones, will become dormant during the hot months and re-emerge when days shorter and cooler in the fall.
There are so many ways to mix and match these flowers. My favorite combo is shown in the photos above: Iceland poppies, Ranunculus, Anemones, Linaria and Violas. They all do well together and they all will burn up at about the same time when the weather heats up. I grow them in a very long, curvy bed with a little picket fence. I place all the Iceland poppies along the fence (they're the tallest), then the rest is a random mix of Ranunculus and Anemone corms with a sprinkling of Linaria and Viola seeds. Both Linaria and Viola seeds will reseed in the fall on their own with cool weather. Violas will come in a little too thickly so I will be thinning the seedlings as they come up.

Grow from Corms or Transplants
Some nurseries sell Ranunculus and Anemones in six-packs, but it's most cost effective to plant corms (available for as little as 15 cents each when bought in bulk). I soak them for at least a couple hours before planting to get them plumped up before planting. For mass plantings, we use an auger connected to a drill for fast holes. We dig a little deeper than necessary toss in some bulb fertilizer, then toss in an amended soil mix (I like Kellogg's organic soil mix which is mostly bark fines and fertilizers), place the corms, then cover with a mix of my soil plus the amended soil mix. Then water well.
In my zone, 9b, it's not necessary to lift these corms at the end of the season. They come back pretty reliably every year. To enrich the soil for areas with bulbs, corms and rhizomes, each year I add a layer of compost, along with some kelp meal and/or amended soil mix to add nutrients to the soil. My yard is all heavy clay, so that's why I really like a mix that is heavy with bark fines; it helps to add texture and drainage to my fine-particle soil.
By the way, each of the photos below are just a few of the colors available. Ranunculus and Anemones can be purchased in a dizzying array of colors and varieties.

Anemones De Caen

Anemone St. Brigid

Ranunculus
Grow from Transplants
We plant six-pack transplants with an auger too. Drill the hole a little deeper/wider than necessary, toss in some amended soil mix, place the transplant and then smooth over the area with amended soil mix as mulch. Adding nutrients will make for more robust plants and flowers.

Chrysanthemum paludosum

Columbines

English Daisy

Iceland Poppies

Ornamental Kale

Ornamental Cabbage

Primula

Primula – Candelabra

Stocks
Grow from Seed
Both of these flowers grow very easily from seed. Linaria is pretty polite, but Johnny Jump-up Violas can reseed aggressively in a subsequent year. Linaria is very narrow and vertical; it fits beautifully between many other flowers. I love how it glows in the light.

Linaria

Viola
Grow from Seed or Transplant
You can certainly buy snapdragons in six-packs practically anywhere, but I have found that they are at their best when grown from seed. I like to mix it up by buying some snapdragons in six-packs but also buy a bulk seed package and just toss it around the garden for random placement and colors.

Pansies

Snapdragons