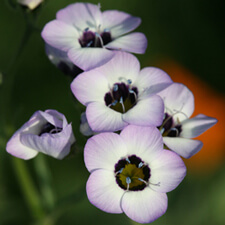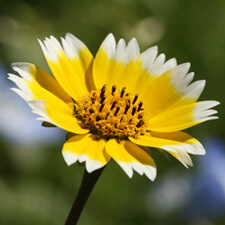 November 25, 2017
California Native Wildflowers
In Western states, fall is the time for sowing California native wildflowers. When planted in the autumn, the plants have all winter to get established. The advantage to planting a mix is a glorious cascade of blossoms from very early spring to early summer. Most will generously reseed year after year.
Most of these flowers are annuals but there are a few perennials:
Blue Flax – Linum lewisii
Blue-eyed Grass – Sisyrinchium bellum
California Poppy Coastal Form – Eschscholzia californica var. maritima
Desert Marigold – Baileya multiradiata
Narrowleaf Milkweed – Asclepias fascicularis
Yellow-eyed Grass – Sisyrinchium californicum
There are so many glorious California wildflowers and my yard has just a fraction of them. I sowed most of them from seed but three beauties came with the property: Castilleja exserta (Owl's Clover), Helianthus annuus (Sunflower) and Amsinckia menziesii (Fiddleneck).
Read about how to grow your own wildflower yard.

Mix of native seeds

Baby Blue Eyes – Nemophilia menziesii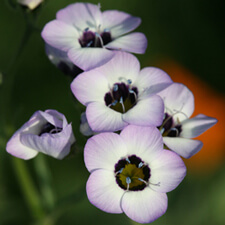 Bird's Eye – Gilia tricolor

Blue-eyed Grass – Sisyrinchium bellum

Blue Flax – Linum lewisii

California Goldfields – Lasthenia californica

California Poppy – Eschscholzia californica

California Poppy Coastal Form – Eschscholzia californica var. maritima

California Poppy – Eschscholzia caespitosa

Chinese Houses – Collinisia Heterophylla

Desert Bluebells – Phacelia campanularia

Desert Marigold – Baileya multiradiata

Farewell to Spring – Clarkia amoena

Orange Fiddleneck – Amsinckia menziesii

Five Spot – Nemophilia maculata

Globe – Gilia capitata

Narrowleaf Milkweed – Asclepias fascicularis

Sunflower – Helianthus Annuus

Monkey Flower – Erythranthe guttata

Owl's Clover – Castilleja exserta

Snow White – Nemophila menziesii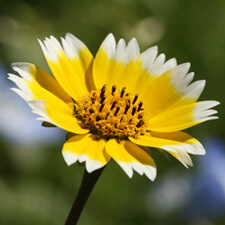 Tidy Tips – Layia platyglossa

Yellow-eyed Grass – Sisyrinchium californicum