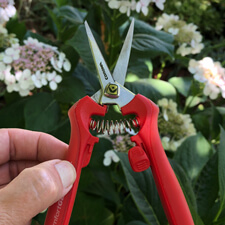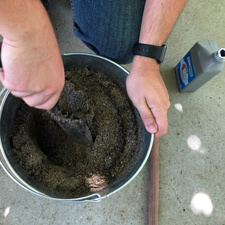 June 28, 2018
Garden Tool Bucket
Gardening is a lot easier (and cheaper!) when tools are kept in good condition. One of the easiest ways to keep them clean and working well is to store them in a bucket with oiled sand. This also minimizes rust. It is such an easy and inexpensive project. The total cost for 5-gallon plastic bucket was $13.30 plus tax.
Supplies
Directions
When completed, the bucket will be pretty heavy. So unless you've got muscles, you might want to mix it wherever you plan to store it.
1. For a 5-gallon bucket, you'll need about 24 ounces of oil. For a smaller bucket, that's about 5 ounces per gallon container. You can use motor, mineral or baby oil.
2. With a big bucket, it's easiest to add about a third of the sand, then pour in a third of the oil and mix well. Then repeat two more times. The sand will darken with the oil and should be damp, but not moist.
3. You can then simply stab your tools into the sand to store them. With tools like trowels or cultivators, I push them in deeply. But with loppers, shears and snips, I only insert the cutting surfaces. Before inserting, I clean the dirt off the tool to keep the sand clean.
For our project, we actually did two buckets: one big 5-gallon plastic bucket for big tools (loppers, shears and small shovels) and a smaller 4-gallon galvanized bucket for small tools (trowels, cultivators, weeders and small shears/snips).
I hope this helps you as much as it did for me. My favorite garden tool is my little floral snippers. It's the only tool that I keep in my pocket all day in the garden because it comes in so handy.