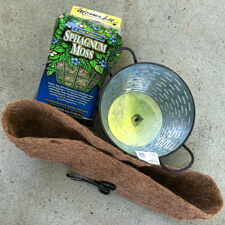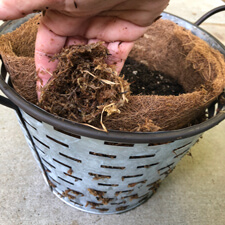 July 03, 2018
Container Gardening – Metal Basket
Go ahead and take me to a craft store. But I'm just looking at everything thinking about what I can use for plants. This metal basket caught my eye and I immediately pictured it in my shade garden with moss. Though since I live in a hot and dry region, baskets must be well insulated to do well.
Supplies
Potting Soil
Spaghnum Moss (a little goes a long way; I used maybe 1/8 of a 7L bag)
Optional: plant stand (this one is from RiteAid)
Below I've included the tags for the plants I selected but they are just examples. I like to pick plants of varying colors and heights for interest.
Photo Instructions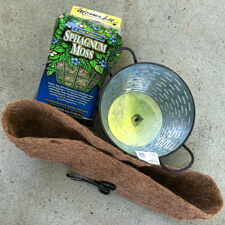 Gather supplies

Select plants

Rehydrate spaghnum moss in bucket of water

If necessary, drill container*

Cover hole with screen

Cut coconut coir to fit sides

Partially fill with potting soil to keep coir in place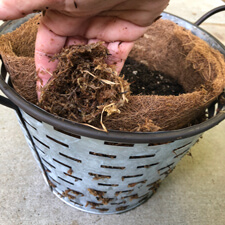 Push moss down sides of basket

Finish filling basket with soil

Place plants and tuck in moss to cover soil and edges

Top view of plants
Drilling Containers
*If you drill a container, always be sure to wear protective glasses. Also, drilling metal can leave a messy hole. We use a screw driver to push the jagged edge into the inside of the basket.
Besides metal baskets, I love to repurpose containers, including ceramics. Drilling ceramics requires a diamond drill tip. They are relatively inexpensive and available at most hardware stores.