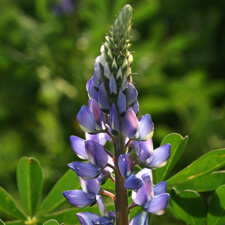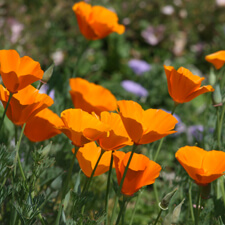 January 15, 2018
Identifying Wildflower Seedlings
Beginning in the fall and throughout the winter, seedlings are emerging all over my yard. Unfortunately, the weeds are coming up too so it really helps to be able to accurately identify the seedlings. I get a lot of weed seedlings too and it's easiest to pluck them while their roots are as small as possible. The upside of weeding and thinning seedlings: it's fresh chicken feed. My girls adore micro greens.
The following is a listing of California native wildflowers with their blossoms and seedlings. I hope it helps you to identify seedlings in your yard.
Also, learn how to get started with growing your own wildflower yard and more about California native wildflowers.
Arroyo Lupine – Lupinus succulentus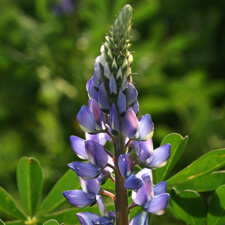 blossoms

seedling
Baby Blue Eyes – Nemophila menziesii

blossoms

seedling
Blue-eyed Grass – Sisyrinchium bellum

blossoms

seedling
California Poppy – Eschscholzia californica
Read more about California poppies.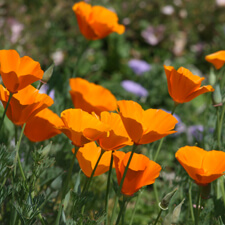 blossoms

seedling
California Desert Bluebells – Phacelia campanularia

blossoms

seedling
Desert Marigold – Baileya multiradiata

blossoms

seedling
Farewell to Spring – Clarkia Amoena

blossoms

seedling
Fiddleneck – Amsinckia menziesii

blossoms

seedling
Five Spot – Nemophila maculata

blossoms

seedling
Golden Lupine – Lupinus densiflorus

blossoms

seedling
Sunflower – Helianthus annuus

blossoms

seedling
Tidy Tips – Layia platyglossa

blossoms

seedling
Yarrow – Achillea millefolium

blossoms

seedling