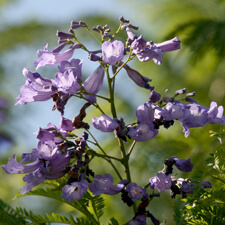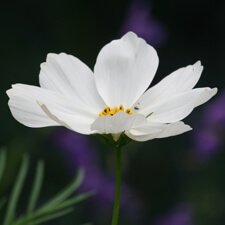 September 20, 2017
USDA Plant Hardiness Zones vs. Climate Zones
Heat-loving blossoms featured above (clockwise): Rose of Sharon, Cosmos and Jacaranda
Have you ever been confused by zones when comparing notes with other gardeners? I know that I have. It's important to remember that USDA zones are only based on average annual minimum winter temperature. You can find yours at the USDA's  Agricultural Research Service by entering your zip code.
But USDA zones don't take into consideration the average maximum temperatures for any  other season or other factors. So while it's very helpful in determining whether a plant will or won't freeze in your zone, it won't necessarily tell you if it can withstand the heat or humidity of your zone.
Since I live in a western state (California), it is much more helpful to rely on Sunset climate zones (western states, southeast states, northern plains) which take into consideration many, many more variables. However, I happen to live in zone 9 either way. But specifically in USDA Zone 9b. Unfortunately, Sunset doesn't seem to have climate zones for all 50 states.
To make it a little more confusing, most information on plant containers is not region specific. I'm thrilled when a plant label actually specifies, "Full sun in coastal areas, part sun in inland areas." That's when I know this plant was labeled for California where the maximum temperatures can be more important than the minimum temperatures.
Otherwise, I am usually seeking advice from the experts at locally owned nurseries to find out if the plant in question can really handle the full sun heat of California's Central Valley. How have you found the right plants for your garden? Be sure to share your experience in the comment area below.