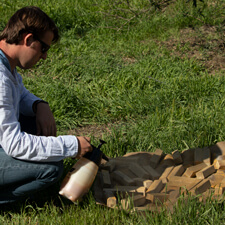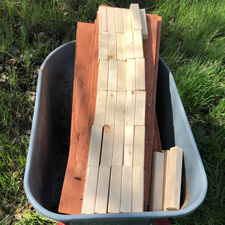 May 07, 2018
Do-it-yourself Stackable Compost Bins
We love this compost bin. It's simple to build and so efficient for making compost. It was designed by the experts at University of California Cooperative Extension. Each 3-foot-square section is a separate, stackable unit. With these easy instructions, you can make as many units as you need. Total cost: $48.98 plus tax.
Supplies
Easy DIY Directions
(See images below for the steps)
1. Saw wood into the following lengths. Or buy at a lumberyard or home improvement center where they will cut for you. We got our wood at Lowe's and a very nice man cut all the lengths for us which was so much easier and faster than sawing it at home. (Figure A)
| | | |
| --- | --- | --- |
| Wood | Length | Qty. |
| 1″x6″ | 36″ | 8 |
| 1″x6″ | 34″ | 8 |
| 2″x2″ | 6″ | 16 |
2. Optional: The edges of the wood were a bit rough, so we did a quick sanding of just the cut edges. (Figure C)
3. Optional: We sprayed all surfaces of the wood with Eco Wood Treatment. Do this the day before (or several hours) to give it time too dry. Beware: Eco Wood Treatment is a stain and will stain concrete, sinks, etc. We sprayed the wood on craft paper in the yard.
4. Place two 2″x2″s flush with the edge of the 34″ board lengths. There should be a 1″ offset from the top of the board. Drive two screws into the 1″x6″ and each 2″x2″. (Figure E and F).
5. Place a 36″ board length against the end of the 34″ length and 2″x2″ that are already attached. Then attach the 34″ lengths as shown in Figure F. You will now have a 36″ square.
6. Repeat the process for the remaining sections.
7. Simply stack the sections as you fill it with compost!

Fig. A: Getting wood cut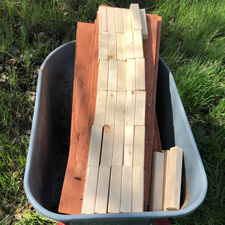 Fig. B: All of the wood

Fig. C: Sanding the edges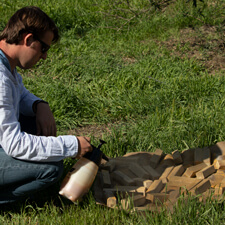 Fig. D: Spraying with Eco Wood Treatment

Fig. E: Drilling the screws

Figure F: How to place 2x2s