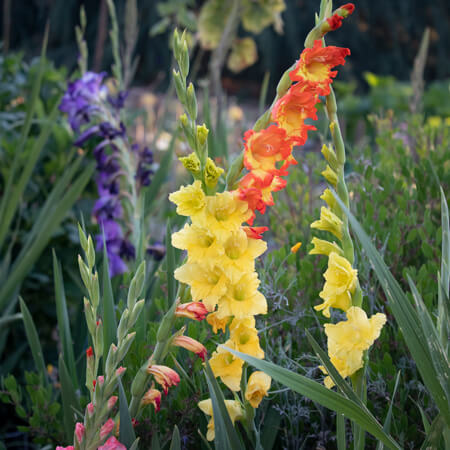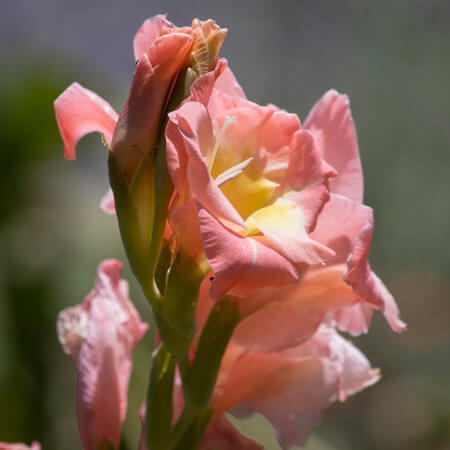 March 07, 2021
Planting Gladiolus Along a Picket Fence
This past year I've worked on perfecting my gladiolus game. I planted along a little picket fence (sold in rolls at Lowe's). When digging in, I add a layer of Kellogg's organic soil, some bulb fertilizer, then a little soil over that (so that bulb doesn't touch the fertilizer), a bamboo skewer to mark location, throw in the corm and cover with more Kellogg's organic soil (for some extra nutrients and it's full of bark fines, so nicely insulating).
Since Gladiolus fall over so easily, I plant the bulbs along the pickets. Then I can clip the stems to the wire and with some that are really top heavy, I've clipped them at both top and bottom wires.

Plant locks

Gladiola attached with plant lock
In my zone (9b), it's not necessary to dig up the bulbs at the end of the season. But I have several that made a lot of baby cormlets, so this fall I dug up all my old gladiolus and divided them. I placed the cormlets in their own raised bed as a nursery and I'll keep them there until they get big enough to transplant to the garden.

After dividing, I replanted all the cormlets along a fresh stretch of picket fencing. We used an auger attached to a drill for quickly digging holes because we put in dozens of corms. This dramatically speeds up the planting process.
Read more about growing and planting Gladiolus
Some Beauties from Last Summer