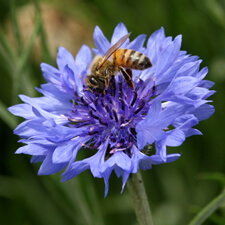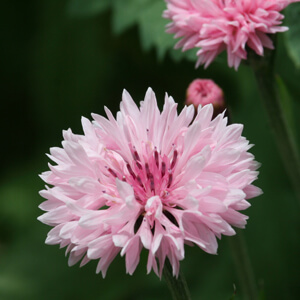 Bachelor Buttons
Bachelor Buttons in many colors are gorgeous in my garden every spring. Besides their beauty, they are an edible flower and used in teas (such as Twinings Lady Grey blend).
Every now and then I see Bachelor Buttons (also known as Cornflowers [though some use this name for Chicory too] or Blue Bottle) in a container at a nursery, like a lot of wildflowers, they don't look too happy. Bachelor Buttons are best grown from seed. They are native to Europe, but they'll grow just about anywhere and are not picky about soil conditions. They like getting established during cool weather, blooming in warm weather and generally burn up in hot weather. If you want them to bloom as long as possible, it helps to deadhead the spent blossoms.
Sun Exposure
I have found they really like full sun and lots of breathing space. Bachelor Buttons grow nicely upright without supports, but if they get crowded by other plants, I've found that they start to fall over. If you're in an area that gets a fair amount of wind/rain, you may need to stake them.
Seed Collection & Sowing
In my zone (9b), I sow seeds in the fall so they can enjoy getting established during the winter and early spring. It's really easy to collect the seeds. I just lop off the dried heads and put them in a labeled paper bag in a dry location. Then in the fall, I simply crush them and cover lightly with a little bagged soil. I prefer Kellogg's organic soil because it is mostly micro bark which retains moisture, doesn't fly away and even the most delicate seedlings can grow around the micro bark. But even if I don't collect seeds, there are always plenty of volunteers.
Managing Volunteers
In some regions (like North Carolina, Maryland and Tennessee), Bachelor Buttons can volunteer too much and some people consider them to be invasive. However, if you get too many volunteers in your garden, seedlings are really easy to pull.
Colors (some are variegated)
White
Pink – Light & Dark
Lavender
Purple
Magenta






Companion flowers
California poppies
Oriental poppies
Snapdragons
Yarrow
Details
Latin Name
Centaurea cyanus
USDA Zone
2-11
Reseeds
Yes
Type
Annual
Bloom Season
Spring