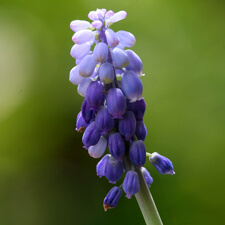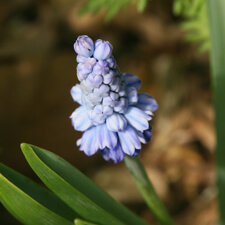 Grape Hyacinth
Grape hyacinths are a treasure. I put them in a container in front of my kitchen window so that I can enjoy them every day. Originally I planted them in the yard, but since they are so tiny, they seemed to get lost among the other flowers. The blossoms are like a cluster of grapes and are so intensely purple (though some cultivars are more blue). Though I've actually gotten a couple of white blossoms too.
They are a spring blooming flower. In warmer regions like mine (9b), grape hyacinths will begin blooming in March. In colder zones, it may be April or later. If we have a cool fall like this year, the shoots will begin to appear agin in late October.
Planting
Place bulbs about 2-3″ deep and about 3-4″ apart. However, in containers, I do plant them more tightly together. Regarding depth, typically bulbs are planted as twice as deep as their height (same is generally true for seeds too).
Container Gardening
After blooming and when the foliage begins to whither, I stop watering the containers. When my container bulbs are dormant, I just set them aside under a shady tree. I know that many gardeners advise storing bulbs in a cool, dry location while they are dormant (which is a good idea) but I don't have a basement or otherwise a cool location. I live in a hot, dry region and virtually all of my bulbs come back.
I have found that if you good a good potting soil, there is no need to add any fertilizer to the container. However, even the best potting soil eventually becomes depleted and somewhat compressed. So about every two years, I completely repot all of my bulb containers.
Planting in the Yard
Grape hyacinth bulbs are best planted in a sunny location with excellent drainage (these flowers really don't like soggy soil). They prefer sandy alkaline soil and appreciate bone meal in the soil. All varieties naturalize very easily and create a wonderful blue/purple carpet of blossoms.
Division, Transplanting & Propagation
About every 3-5 years, grape hyacinths need to be divided and best done in later summer. When in a container, I typically do it a little more often because it's convenient to separate out the larger offsets.  I'll leave the tiny bulbs on the mother bulb for another year because they usually can't make it on their own if separated too early.
Grape hyacinths can also be grown from seed, but it can take several years to produce blossoms. You can encourage the growth of the bulbs (and thus the offsets) if the blossoms are deadheaded. The bulbs then won't put any energy into reproduction and the foliage will nourish the bulbs. Don't cut back the foliage until it is yellow and withered.
Storing/Forcing Grape Hyacinths
They can be chilled in the refrigerator for up to six weeks. This is a good idea for those living in warmer regions. Be sure to place them in a paper or cloth bag. Don't use plastic because it's not breathable.
Naturalizing
Beware, these flowers can reproduce very prolifically, so don't put grape hyacinths anywhere that you cannot contain them.
Details
Latin Name
Muscari armeniacum
USDA Zone
4-10
Bloom Season
Spring
Type
Perennial
Reseeds
Yes