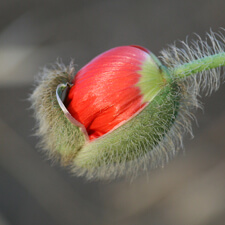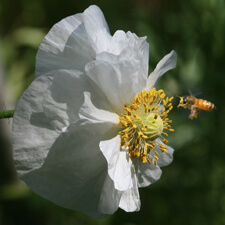 Poppy Family – Papaveraceae
I love so many flowers, but poppies are truly my passion. They grow in my yard all year long. With a few exceptions, I grow most from seed sown in the fall. Each poppy pod is full of many seeds so you'll be sure to get many beautiful volunteers year after year.
I've grown poppies from these species:
Eschscholzia californica – California poppy (which has more than 70 sub-species)
Papaver orientale – Oriental poppy
Papaver rhoeas – Common poppy, corn poppy, annual poppy, Flanders poppy, Shirley poppy
Papaver somniferum – Opium poppy
Romneya coulteri – Matilija poppy (fried egg poppy)

Poppies are both annuals and perennials. Sometimes there are variances depending on the hardiness zone. They are often thought of as a small plant, but some poppies are quite tall. The Matilija poppy (Romneya coulteri – native to California and northern Mexico) is a shrub that can grow up to about 8′ feet tall. In sandy/loose soil, it can spread extensively and some describe it as invasive. It is not for the small garden.
Sowing Poppies
Many annual poppies (oriental, shirley, opium, California) have a taproot so they do not like being transplanted. However, if you do buy poppies from a nursery, the smaller the better – like in 6-pack containers.
But poppies are so very easily grown from seed. In Western states, poppies are best sown in the fall. They are quite hardy and like getting established over the winter for early spring blooms. In colder regions they can be sown in early spring. Most do not tolerate high heat (or high humidity), so will display a wonderful show in cool spring weather and then fade as the weather heats up.
Transplanting Poppies
One of my favorite poppy varieties that I typically plant in the garden from nursery plants: Iceland poppies. Mainly for timing. I want Iceland poppies to start blooming in my yard in the fall and it's too hot in my area to start them from seed. Plus, with few exceptions, they have not volunteered in my yard.
Growing Annual Poppies
Soil: I have found that most annual poppies (oriental, shirley, opium, California) are not picky about soil. I have grown them in heavy clay soil, soil mixed with decomposed granite and they even come up in my gravel drive way. They do need adequate drainage.
Water: With cool spring weather, they don't need a lot of water. But as the weather warms up, they don't like drying out. Adequate moisture can extend their blooming season.
USDA Zones: Most annual poppies can grow in zones 3-10. They like to germinate when temps are about 50-65 degrees.
Instructions: Read Grow Your Own Wildflower Yard
Details
Latin Name
Papaver
USDA Zone
Varies
Bloom Season
Varies
Type
Varies
Reseeds
Yes