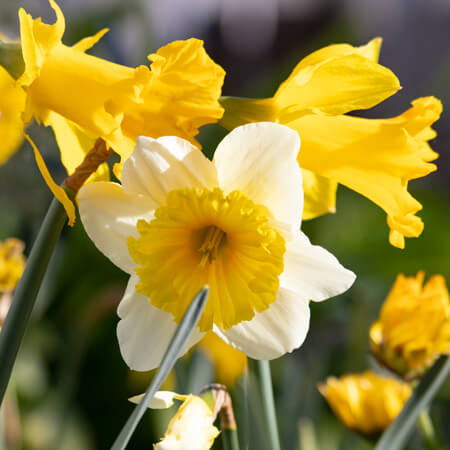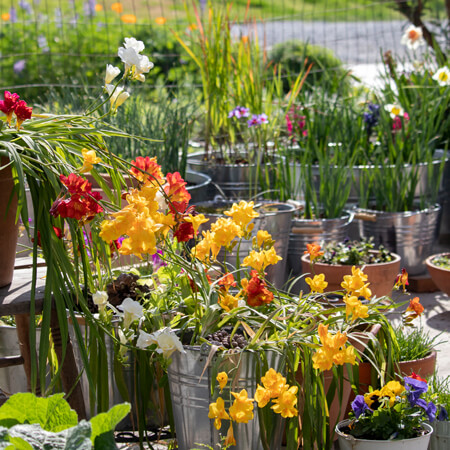 December 27, 2020
Growing Bulbs, Rhizomes & Corms in Containers
I love container gardening, especially with a variety of bulbs, rhizomes and corms. It's so easy and they come back beautifully year after year. Plus, many of them make a lot of babies that you can give away to friends and family. I like to grow them in containers for a couple of reasons:
Love to put them front and center when they are blossoming.
Easy to put them aside when dormant.
Most of my bulbs, rhizomes and corms in containers are spring blooming. They start to emerge in the fall/winter, bloom in the spring and are mostly dormant over the summer. It's important to let foliage continue to grow after blooming; this is how they gain energy for the subsequent year. I stop watering when foliage dies back. While dormant, I place all my containers in a shady area within our cottonwood grove. Though watch out for critters. One year some hens got out and ate up some of my tiny bulbs.
Repotting & Refreshing Potting Soil
At least every two years, I repot all of my containers. First, I sift all the soil through a compost screen so that I don't miss any bulbs or corms. Though it is a little tricky to get all of the tiny bulblets and cormlets. That means that some babies and seeds may end up in other containers.

Pulling out the bulbs

Sifting soil into can
I reuse the old potting soil by mixing in some kelp, perlite, vermiculite, as well as bone and blood meal. I use about 50/50 old and new potting soil. I also add in some organic granular bulb food (Jobe's Espoma and Dr. Earth are all good choices), but don't let it touch the bulb or corm.
Bulbs, Rhizomes & Corms that Do Well in Containers
Agave amica, Tuberose
Brodiaea
Crocus
Daffodil
Fritillaria meleagris, Chequered Lilies
Fritillaria persica, Persian Lily
Fritillaria uva-vulpis
Hippeastrum (often referred to erroneously as Amaryllis)
Hyacinthus
Iris reticulata
Iris ser. Californicae, Pacific Iris
Ixia
Leucocoryne
Leucojum aestivum, Snowdrops
Muscari, Grape Hyacinth
Narcissus papyraceus, Paperwhite
Scilla campanulata excelsior, Wood Hyacinth
Scilla litardierei, Amethyst Meadow Squill
Scilla peruviana
Triteleia
Bulbs, Rhizomes & Corms Blooming in My Container Garden

Agave amica, Tuberose

Brodiaea

Crocus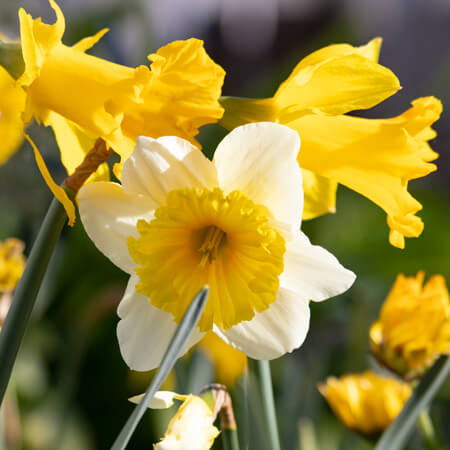 Daffodil

Fritillaria uva-vulpis

Hippeastrum

Hyacinthus

Iris reticulata

Iris ser. Californicae, Pacific Iris

Ixia

Leucocoryne

Leucojum aestivum, Snowdrops

Muscari, Grape Hyacinth

Narcissus papyraceus, Paperwhite

Scilla campanulata excelsior, Wood Hyacinth

Scilla peruviana

Triteleia