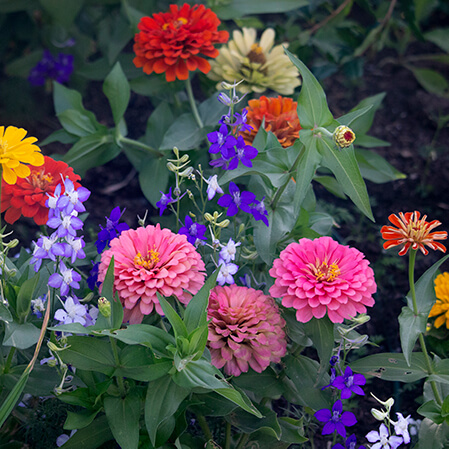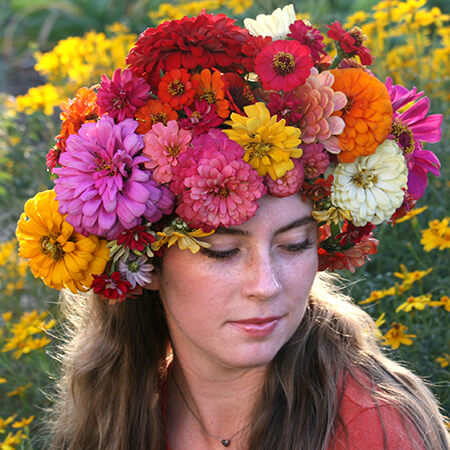 August 20, 2021
Sowing Zinnias
There are so many beautiful reasons to love zinnias! But we especially love them for all the butterflies, hummingbirds and other pollinators that they bring to the garden.
Whether you place them in the garden as transplants or from seed, zinnias are so easy to grow. They can really take the scorching summer heat in full sun. In my yard, they start blooming in April and last into the fall until cold weather takes them out. Last year was a warm winter, so some lasted until December.
I grow many zinnias by direct sowing, but to get an early start, I begin the season with transplants. You can typically find six-packs at independently owned nurseries. These varieties can often be found in nurseries:
State Fair
Cut and Come Again
Profusion
Magellan
Short Stuff
Starbright
Thumbelina
Zahara
But you'll get the biggest variety options when you grow from seed. They like to germinate in warm soil, at least 70ºF. If warm weather comes late to your garden, they are easy to germinate inside your home and then transplant after your last frost date and when daytime temps are at least in the 70s during the day and no colder than 60s at night.
This year, we tried something different for direct sowing, we used Earth Science Zinnia Mix which is a 3-in-1 seed+fertilizer+soil mix (two packages which cover 200 square feet each). In an open area, we broadcast the zinnia mix over the area. This mix would typically be raked in, but this area already had other seedlings coming up and had a mulch cover. Instead of raking into the soil, we used my fave seedling cover, Kellogg's organic soil which is mostly bark fines. It nicely insulates seeds and seedlings to keep them moist. We just lightly covered the seeds, then kept the area moist until germination.
Here is how the area looked before we got started:

Broadcasting mix

Soil mix for cover

Light cover with soil
The zinnias filled in beautifully:

Growing Tips
Sometimes gardening newbies tell me that none of their seeds germinated. With zinnias, that's pretty unlikely because they germinate very easily in warm soil. However, snails and slugs can easily zero them out as soon as they emerge. Take a look at my post on Saving Your Plants from Snails and Slugs to prevent this from happening.
Don't be shy about thinning seedlings. I know it can be hard when you love your flowers to pull seedlings. I hate it too. Do it when they are little and that can make it easier to prick the seedling carefully and take to a less dense area. I do this a lot with areas with zinnia volunteers because they can come back pretty thickly. The Earth Science zinnia mix is California Giants, so it was important that I provided adequate room for each plant as they get pretty big (up to 48″ high and about 12-18″ wide).
Supporting Zinnias
Since California Giants, State Fair and some other types of zinnias, can get pretty big and we have a long growing season in California, they can need some support to stay upright. I like a cottage garden look, so along the edge we placed a little picket fence which is sold in rolls. I use these little fences all over the garden; especially to support Gladiolus which can be very floppy.
Where to Plant Zinnias?
Practically anywhere! Zinnias aren't picky about soil – whether I plan in rich soil or poor rocky soil, they thrive. I like to mix them up with other flowers in borders.

Hummingbirds Love Zinnias!






Butterflies Love Zinnias!

Swallowtail Butterfly

Gulf Fritillary Butterfly

Fiery Skipper Butterfly

Painted Lady Butterfly

West Coast Lady Butterfly

Swallowtail Butterfly