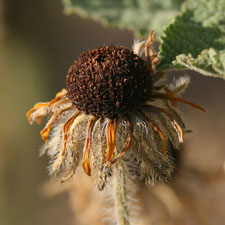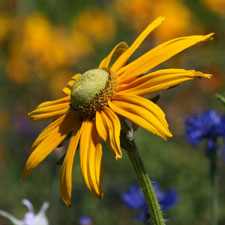 Rudbeckia
So easy to grow from seed (you'll be rewarded with many volunteers) and Rudbeckia has a long, gorgeous blooming season. In warm zones like mine (9b), Rudbeckia will bloom for most of the year. In cooler zones, it's a non-stop bloomer summer into fall.
Rudbeckia is also known as a Black-eyed Susan or Coneflower. It's a prairie flower native to North America. They range in colors with yellow, orange, red and brown. Most have dark brown centers, but the Irish Eyes variety has a lovely light green center.



Growing Advice
Planting: They are grown best in full sun (but are okay with light shade) and withstand hot summer days. I have grown them from seed and purchase in six packs from my local garden center. They are not picky about soil type, but don't like non-draining soil. They do well in my heavy clay soil. Don't overdo it with fertilizer; it's not necessary. I dress my flower beds with a light layer of sheet mulching (coffee grounds, shredded wildflowers and sprinkle of blood/bone meal) which decomposes slowly into the soil.



Water: I've seen Rudbeckia described as drought resistant, but in my very hot and sunny garden, they need regular watering. They may need less in cooler zones.
Deadheading: If you want volunteers, let them go to seed. But if you want to extend their blooming, deadhead regularly.
Pests: I've heard that Rudbeckia are deer-resistant once well established because their leaves and stems are quite hairy. But there are no deer in my neighborhood. They also can be subject to mildew in hot, humid conditions. Rudbeckia needs good air circulation.



Companion Plants
Rudbeckia is perfect for the hot and sunny cottage garden! It's gorgeous with bachelor buttons, snapdragons, yarrow, alyssum, salvia, larkspur, zinnias, cosmos and many types of wildflowers.

Details
Latin Name
Dracopis amplexicaulis
USDA Zone
3-11
Bloom Season
Summer-Fall
Type
Perennial
Reseeds
Yes